The Sant Pau Cursa Científica
The Hospital de la Santa Creu i Sant Pau has been organising the Run for Science since 1989 for two primary objectives: to further understanding of the effects of sport on health; and to raise awareness of the importance of doing exercise. Over the last 31 years, more than 2,000 people have taken part and around 20 research projects have been conducted that have scientifically proven that sport is good for your health and that everyone should keep physically active, including the sick, as long as it is adapted to each person's age and ability.
The results of these studies have shown that regular exercise poses no risk to clinically-stable cardiac patients, to patients looking to prevent or control type II diabetes, or to people with high blood pressure or other metabolic disorders like high cholesterol. People with heart conditions who followed a rehabilitation programme have already completed previous races.
Organize:

COME AND RUN FOR SCIENCE!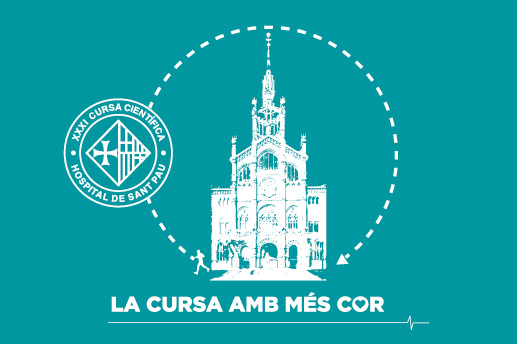 Take part in the fun run to promote the study and the benefits of physical exercise for cardiac patients, and to train for the 8th DiR urban run 2020.
Register for free and receive your free T-shirt
Places limited to 250 people
28 March 2020 at 10:00
The run, which aims to promote controlled physical exercise as a complementary therapy for the treatment of heart diseases, will begin at 10:00 in front of the terrace of the old cafeteria. The course distance will be around one kilometre and will last for 2 hours.
Sign up!