What is Aerobics?
Aerobics is a cardiovascular workout based on complex routines that represent a personal and physical challenge.
Aerobics classes are typically highly stimulating and target coordination and memory, therefore giving you both a cardiovascular and a mental workout. They also burn calories whilst triggering the release of endorphins, guaranteeing that fun is had by all!
Benefits of Aerobics
If done regularly, aerobics has numerous health benefits for your body, some of which are as follows:
It eliminates body fat.
It reduces cholesterol levels in the blood.
It improves the body's capacity for work and the cardiovascular system.
It increases the production of endorphins, which help to improve your mood.
Aerobics is ideal for:
People who love routines and an intense cardiovascular workout.
People who want to improve their coordination.
People who want to improve their physical fitness.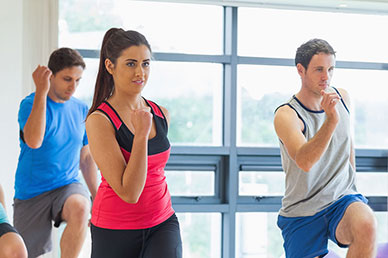 Improve cardiovascular resistance, burn fat and have fun with DiR clubs' Aerobics classes. Try it out!
REQUEST A FREE SESSION
NO HI HA HORARIS PER L' HORA, DATA I CENTRE SELECCIONATS
---
Al DiR hi ha moltes més activitats per a tu, prova de canviar els paràmetres de cerca