Cuida't
THE LOW-INTENSITY, FUN FITNESS CLASS
What is Cuida't?
Cuida't classes were created by DiR to meet the needs of older people looking to get active after years of physical inactivity, or for people with certain conditions who need to do exercise without risk of injury, such as arthrosis, arthritis, a prosthesis, back, cervical or lumbar problems, high blood pressure, etc.
The various Cuida't classes are held during the morning at all our clubs, and whilst they all have something in common, the can be adapted to the needs of each club's participants. Speak to the instructor to assess how to adapt the Cuida't exercises to your needs.
Cuida't classes are of moderate intensity, with some sessions incorporating higher-intensity exercises to improve cardiovascular fitness and burn calories, depending on the level of the class. Cuida't offers you the following options:
Total Body:
This is a general physical fitness class that combines cardio blocks with simple routines with intensive strength-training blocks involving repetitions. Medium intensity.
Funcional:
Functional training incorporates exercises that can be applied to movements of everyday life, to improve and or maintain the movement and strength necessary to complete your daily tasks. It also works static balance, dynamic balance and stabilisation of the core.
Ritmes:
Aerobics class with simple routines, combining 3 consecutive blocks with different types of music. This class is of moderate-high intensity.
Tonifica't:
Toning session that combines routines or circuits with different training apparatus like weights, gliding discs or Xertubes to improve the strength and resistance of the primary muscle groups.
Yoga:
Flow yoga poses and harmonious transitions adapted to the participants' abilities. The class also includes guided meditation to relax the mind.
Pilates:
Class that applies the principles of Pilates to exercises adapted to the participants' physical condition in terms of the cervical or lumbar area, prosthesis, arthrosis, etc.
Vital:
Recharge your body and mind with this session that combines yoga, Tai Chi, Pilates and stretching with relaxation at the end of the session.
Tai-Chi:
Meditation in movement that regenerates and activates the body and mind and has therapeutic properties.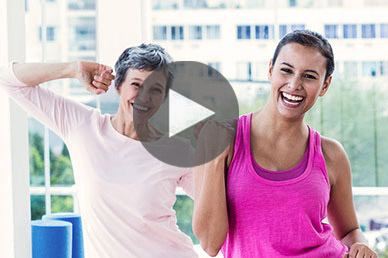 Cuida't is a danced-based, medium/low-intensity cardiovascular class that works on coordination to the rhythm of the music.
REQUEST A FREE SESSION
NO HI HA HORARIS PER L' HORA, DATA I CENTRE SELECCIONATS
---
Al DiR hi ha moltes més activitats per a tu, prova de canviar els paràmetres de cerca