At DiR, we want to reward your faith in us, which is why we have created a new points scheme. You will now be able to collect points in different ways and use them to get certain perks.
How can I collect DiR points?
You can collect points based on the length of time you've been a DiR or YogaOne member
As well as on the type of membership package you have.
But you will also earn points when you use the various services offered by DiR Clubs:

Aesthetics and Well-being Services
DiR Fashion purchases
Saibó restaurants
Earn 20 points for every €100 spent (including VAT). Points accrued during the preceding month will be added to your account on the first day of the following month.
IF YOU BRING A FRIEND...
You will take advantage of the Carriers Promotion*
From now on, if a friend you bring to the club joins DiR...
we will give you and your friend 100 points each.
What can I get from DiR Points?
DiR points can be used to access to toher Clubs DiR (except BDiR Calvet and BDiR lluria) that you will be able to choose from your private area
Discounts off in DiR services: for every 1000 points in your account, you will receive a 1% discount off (maximum discount that can be applied is 10%).
Acces to all clubs during the weekends (n

ot aply to Diagonal DiR in summer season).

Acces to all clubs during morning time.
Important conditions:
on demand costumers will only be able to choose on demand clubs;

costumers with a change of center will not be able to select a club with a point value greater than their, for two years. Also, they will lose the selected club before the change;

If the costumer canceled definitely his subscription, he will lose the accumulated points.
How can I check my points balance?
Follow these steps to check your balance and redeem your points: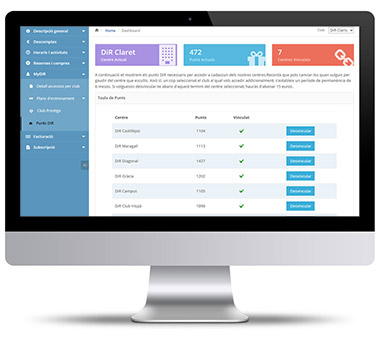 <
2

Check your balance and redeem your points

Check your balance and select the club you want to link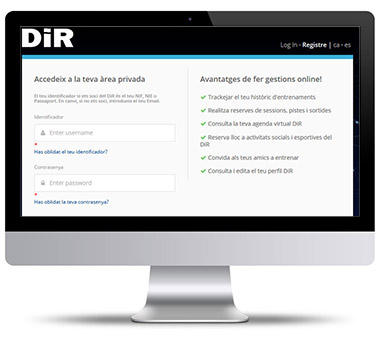 1

Go to Your account

Log in to Your account with your username and password
If you have any doubt about your online account sign up or the points Scheme, we'll be pleased to help you in the reception of our clubs.

We hope you will enjoy all the kind of possibilities offered by DiR Points Scheme
* Promotional terms and conditions:
- Promotion valid for members who joined the club more than 1 month ago.
- The member must be with their friend when he/she joins and this must be recorded at the time.
- The friend may pay for membership using any valid form of payment.
- The friend may not be a former member who left fewer than 100 days previously.
- This promotion does not apply to temporary members.
- This promotion does not apply to temporary members, solidarity on the Card or type of agreement.