BODY COMBAT
A RUSH OF ADRENALINE COMBINED WITH MAXIMUM PERFORMANCE
What is Body Combat?
Body Combat is a cardiovascular exercise programme based on movements from different martial arts like taekwondo, karate, capoeira, Thai boxing, tai chi and boxing. It's the ideal fusion of technique and music!
It works via choreographies in which participants exercise their arms, shoulders, back, legs and abdominals while helping them improve their flexibility, strength, coordination and cardiovascular stamina.
What are Body Combat sessions like?
A Body Combat session is divided into different sections and lasts 55 minutes. The first section is to warm up and begin to familiarise yourself with the movements you're going to do in the second section. In this second part, movements from techniques like boxing, kick-boxing, karate, taekwondo and Thai boxing are done to music, but without any physical contact.
The session is full of fun and energy, and everyone who tries it wants to come back. Are you going to be the next one?
Benefits of Body Combat:
It improves stamina, strength, coordination, agility and energy.
A single session can burn 700 calories, so it can help you lose fat and slim down.
It helps tone the body, primarily the arms and legs, thanks to the repetition of high-intensity movements.
Body Combat is ideal for releasing anxiety and destressing. You can let go of all your tension by air-punching and kicking.
Who is it targeted to?
Anyone can practise Body Combat because the movements can be adapted to everyone's level, except for people with knee injuries or arthritis in other joints. It is also not recommended for pregnant women.
TRY OUT BODY COMBAT AT DIR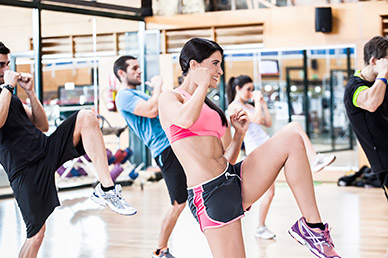 Intense cardiovascular workout using combat techniques. A rush of adrenaline combined with maximum performance. Try it out!
REQUEST A FREE SESSION
NO HI HA HORARIS PER L' HORA, DATA I CENTRE SELECCIONATS
---
Al DiR hi ha moltes més activitats per a tu, prova de canviar els paràmetres de cerca