Pilates
ARE YOU AWARE OF THE BENEFITS OF PILATES?
What is Pilates?
Pilates helps stabilise posture, strengthen the deep muscles and alleviate back and joint pain.
It also requires concentration and an awareness of your body and breathing, helping to relax the mind and reduce stress.
Anyone can benefit from Pilates, irrespective of their fitness level: young people, adults, older people, expectant mothers and athletes.
As Joseph Pilates said: "In 10 sessions you'll feel the difference, in 20 sessions you'll see the difference, and in 30 sessions you'll have a whole new body"
DiR offers you:
Pilates studios or dedicated areas with cadillacs, reformers and everything you could possibly need to activate the muscles, including barrels, magic circles, etc., under the guidance of our specialised Pilates Personal Trainers, or sign up to a Pilates class. Available at DiR Castillejos, DiR Claris, Diagonal DiR, DiR Maragall, Tres Torres DiR, Tuset DiR and Up&Down DiR.
Open floor Pilates sessions, which implement the principles of Pilates to achieve greater scope of movement, strengthen the stabiliser muscles, rebalance the muscles and stabilise the core. Available at all DiR clubs.
AquaFit Pilates: This class applies the principles of Pilates to water-based fitness with the Dynafloat, a device that aids stability in water. This class, which tones, stabilises and strengthens the core, and improves posture, coordination and memory, is open to anyone. Available at Maragall, Diagonal, Av. Madrid and Gràcia.
Try out Pilates, your mind and your body will thank you for it!
EXPERIENCE THE BENEFITS OF PILATES AT YOUR DIR CLUB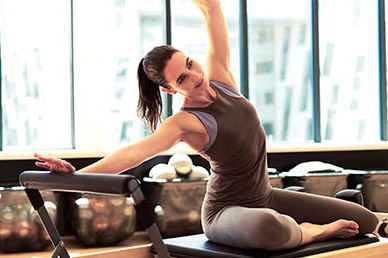 Try out Pilates. You will feel the benefits of Pilates right from the first few sessions. Your body and your mind will thank you for it.
REQUEST A FREE SESSION
NO HI HA HORARIS PER L' HORA, DATA I CENTRE SELECCIONATS
---
Al DiR hi ha moltes més activitats per a tu, prova de canviar els paràmetres de cerca