Total HIIT
The workout which ensures the quickest results
What is Total HIIT?
Total HIIT is the best combination of cardiovascular exercise with high intensity training and upper body muscular workout.
Total HIIT consists of two distinct activities: Functional Step and Upper Body. The first one is centred on cardiovascular training with the step as main support of the session, and Upper Body focuses exclusively on exercising the upper body.
Depending on the club, you'll be able to do both Total HIIT sessions at the same time (50 minutes), or else separately combined with Cul10, Body Combat or Mind Body, among others.
Benefits of Total HIITt
Includes cardiovascular work and high intensity training in one session.
With Total HIIT you will gain strength, define your muscle tone, improve cardiovascular resistance or coordination.
One Total HIIT helps burn up to 800 calories.
The result is a "fit body" because muscles don't grow in volume, but are defined.
Who is this for?
People who wish to get results more quickly
For all levels, because the intensity can be adapted to everyone's level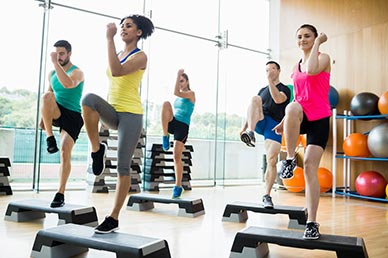 Total HIIT is a workout that ensures the quickest results thanks to the combination of cardiovascular and high intensity work. Go ahead and try one session to check results.
REQUEST A FREE SESSION
NO HI HA HORARIS PER L' HORA, DATA I CENTRE SELECCIONATS
---
Al DiR hi ha moltes més activitats per a tu, prova de canviar els paràmetres de cerca