Sprint 30
THE LATEST HIGH-INTENSITY CYCLING CLASS BROUGHT TO YOU BY DIR!

What is Sprint 30?
Sprint 30 is one of the most sophisticated workouts for developing maximum power in terms of Watts consumption. Each session burns a high number of calories thanks to the high intensity of the exercises. It also improves performance and muscle power, tones the legs, improves the body's anaerobic capacity and speeds up your metabolism, which helps to burn calories even after the class has ended.
Types of class
30-minute and 45-minute classes: in both cases the effective workout time is around 25 minutes as the intensity of the session is very high. The 30-minute classes comprise a short 4-minute introduction to assess the Watts challenge that you will find for the different intervals. The class then begins, which is divided into 8-12 intervals up to one minute each for sprinting or changes of speed. In the 45-minute class, the first 15 minutes are dedicated to technique exercises or power tests, which is longer than in the 30-minute class.
COME AND GIVE THE ALL NEW SPRINT 30 A TRY!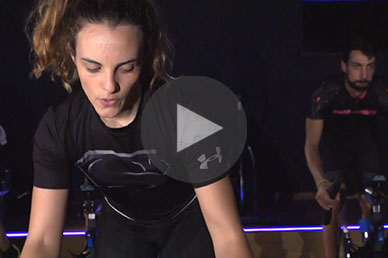 Come and give the all new Sprint 30 a try! Join an innovative class based on Watts training, where there is no excuse not to give it your all. Dare to demand the most from yourself!
REQUEST A FREE SESSION
NO HI HA HORARIS PER L' HORA, DATA I CENTRE SELECCIONATS
---
Al DiR hi ha moltes més activitats per a tu, prova de canviar els paràmetres de cerca