BODY PUMP
STRENGTHEN AND TONE YOUR BODY!
What is Body Pump?
It is an intense session that works the main muscle groups with bars and weight discs to the rhythm of the music in a sequence of 10 different exercises.
A combination of exercises and weights.
All the exercises, such as squats, weight training or lifts, are completed with added resistance in the form of a bar and discs of various weights to work the muscle to varying degrees of intensity. The additional weight will vary depending on the muscle group being worked and the ability of the participant.
This is the ideal workout for:
Increasing strength and muscular resistance
Toning the body and eliminating body fat
Strengthening muscles to prevent injury in other sports
TONE YOUR BODY WITH BODY PUMP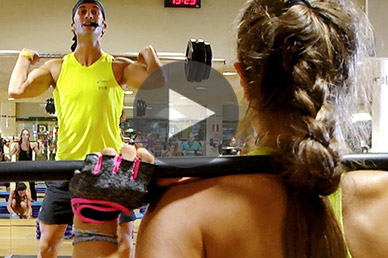 This class works the main muscle groups by lifting weights. Anyone can do it and it is one of the most effective ways to tone your body, increase muscle mass and eliminate body fat. Would you like to try out a class?
REQUEST A FREE SESSION
NO HI HA HORARIS PER L' HORA, DATA I CENTRE SELECCIONATS
---
Al DiR hi ha moltes més activitats per a tu, prova de canviar els paràmetres de cerca