DiR nutritionists reveal their best-kept secret: their recipes for healthy lunches to take to work
Luckily, the famous refrain "the cobbler's children have no shoes" doesn't apply in the case we're bringing you today. Below, we'll see that the DiR nutritionists do practice what they preach to their clients in their own lunchboxes, which are packed with healthy, varied recipes that are so delicious that if you decide to try them, you'll be hoping for lunchtime to come as quickly as possible so you can taste them.
The following lunch recipes, you'll see, feature basic, natural ingredients, avoid processed foods and have the right proportion of vegetables, carbohydrates and proteins. This is a clear example of the recommendations our nutritionists normally give on how to have a balanced, healthy diet.
Rice with salmon and vegetable salad
Laura R., the nutritionist at Dir Gràcia and Castillejos, proposes this colourful recipe for whole-grain rice with pumpkin seeds, salmon en papillote and a great looking salad with strawberries and steamed broccoli and carrots. Finger-licking good!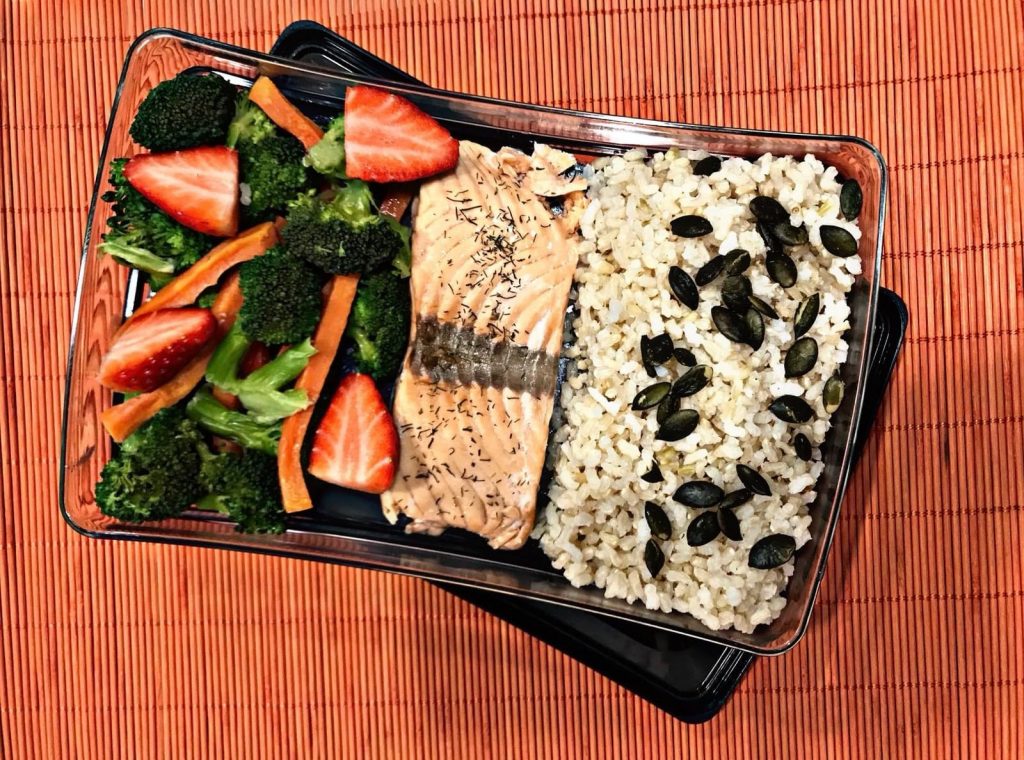 Courgette and chicken curry with semi whole-grain rice
Claudia Turc, our head of the Nutrition Department at DiR, offers us this lunch meal with semi whole-grain rice (more palate-pleasing than straight whole-grain without missing out on the nutritional benefits) with chicken and courgette bathed in coconut milk and curry. A perfect combination.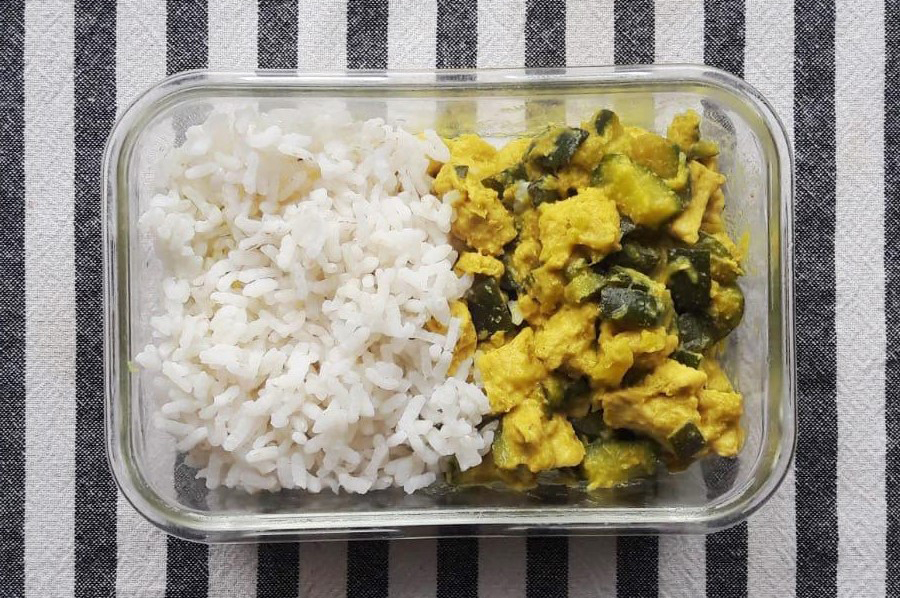 Chickpea and potato salad
Maria A., the nutritionist at DiR Campus and Hispà, recommends this appetising salad packed with healthy ingredients: potato, chickpeas, cherry tomatoes, carrot, a boiled egg, walnuts, lamb's lettuce, toasted sesame seeds and a drizzle of extra-virgin olive oil.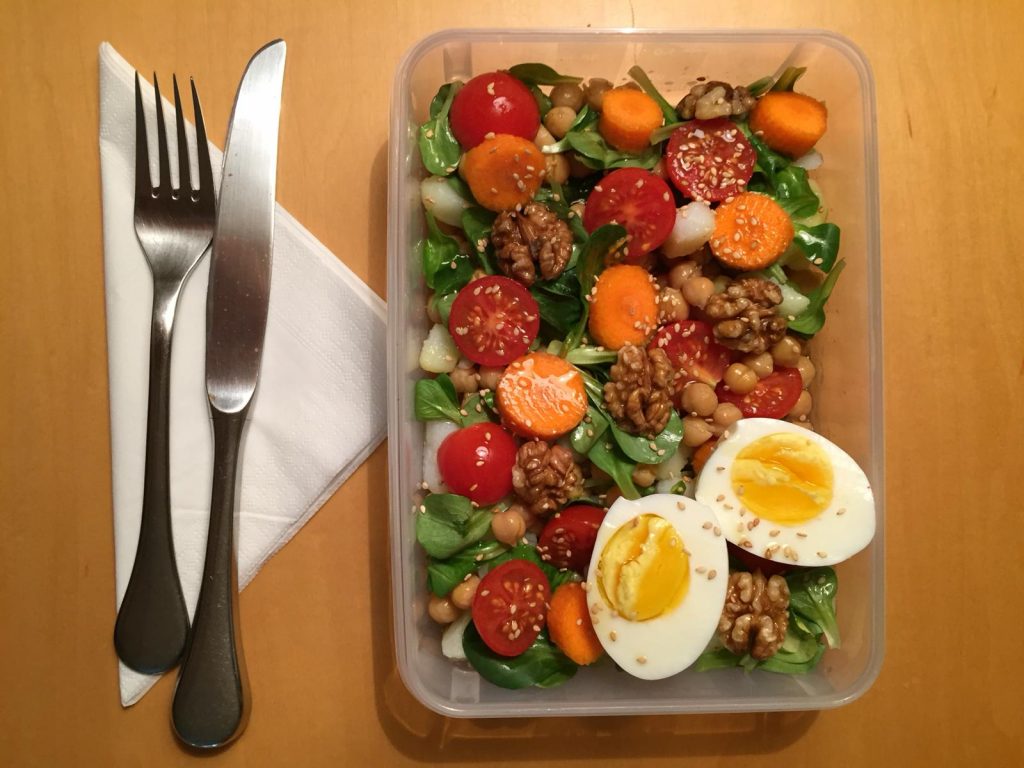 Salmon with wild rice, chickpeas and asparagus
The nutritionist at DiR Eixample and Tarragona, Andrea M., has prepared this lunch with grilled salmon, wild rice, asparagus, chickpeas, garlic, parsley and a hint of spice to bring out the best flavours: powdered garlic and onion, sweet paprika, cumin and black pepper. Simple yet irresistible!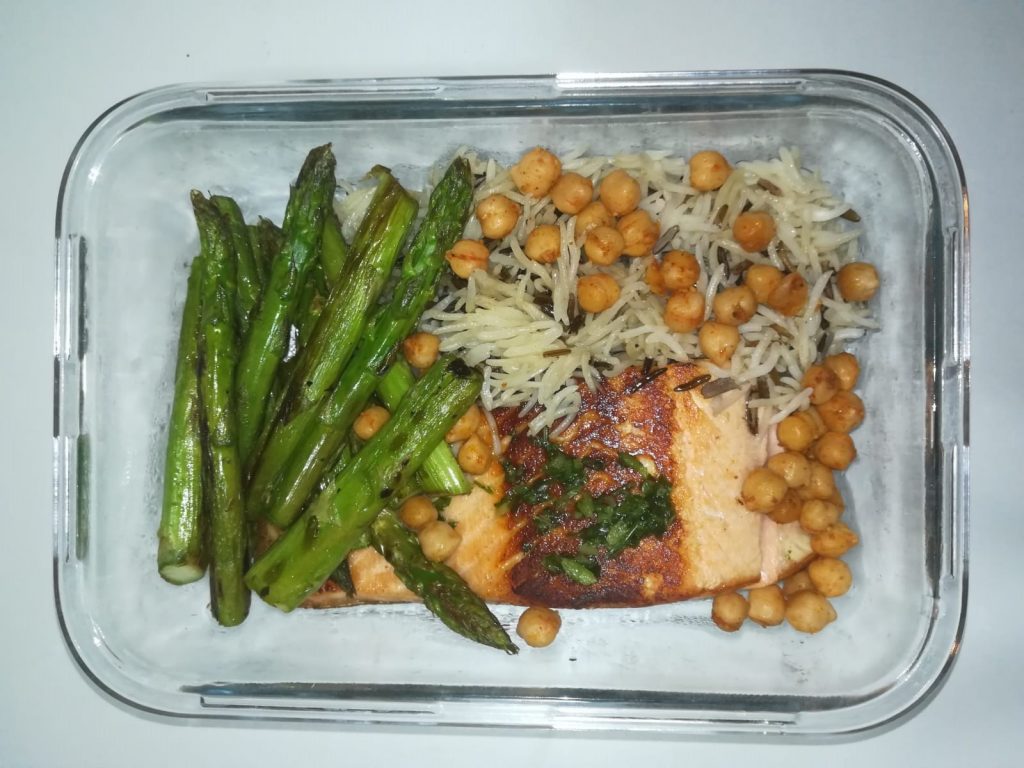 Quinoa sautéed with chicken, vegetables and sultanas
Bea C., the nutritionist at Sant Cugat DiR, presents the perfect to-go lunch for quinoa-lovers. It features sautéed quinoa with chicken, courgette, red pepper, mushrooms, carrot, onion and sultanas. A very balanced meal with excellent nutritional composition.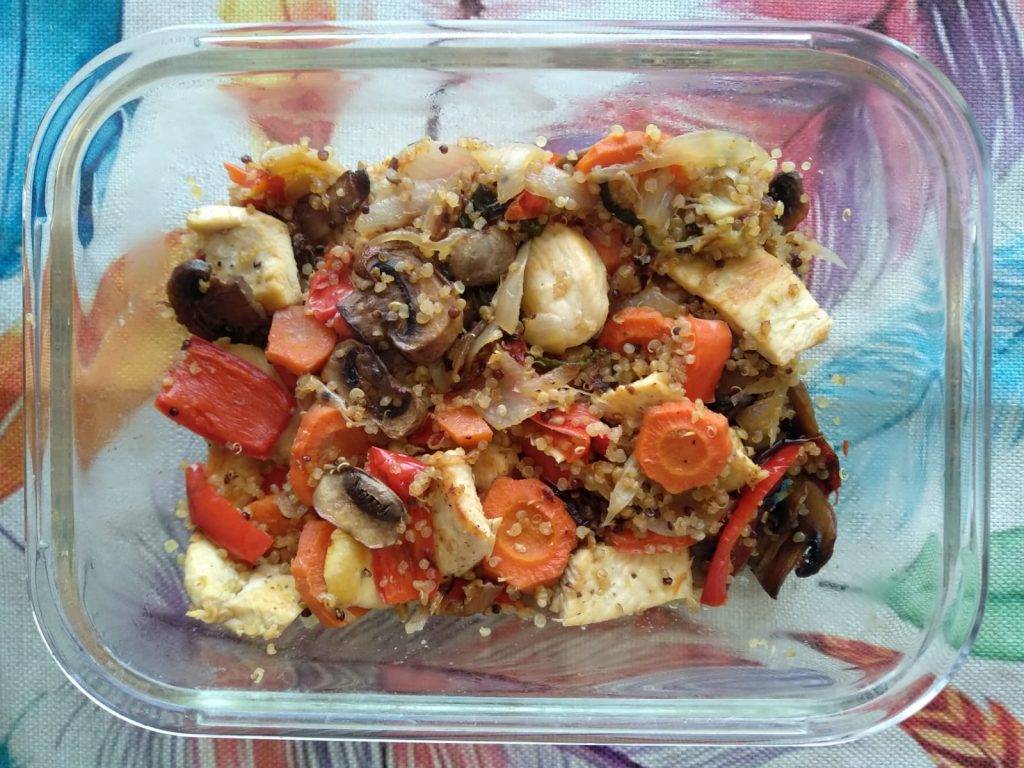 Quinoa salad with tofu and nuts
We cannot leave out a vegetarian option with quinoa, from Lurdes L., the nutritionist at DiR Maragall and Tuset. Here we have a quinoa salad with lamb's lettuce, rocket, cucumber, red pepper, strawberries, avocado, tofu, mushrooms, seeds and nuts. No doubt, it's a very complete salad!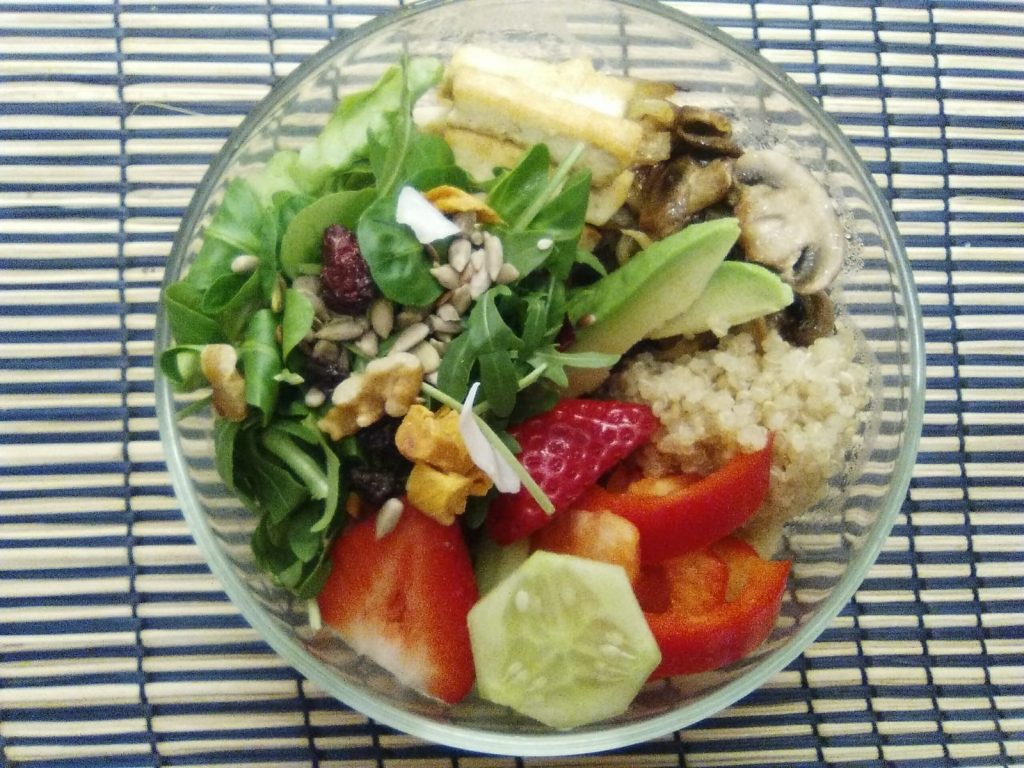 Beef meatballs with vegetables and basmati rice
Clara C., the nutritionist at DiR Tres Torres and Castillejos, presents this recipe that features meat with vegetables and rice: a combination that never fails! Specifically, these meatballs with tomato and peppers are served with basmati rice, Brussels sprouts and green garlic.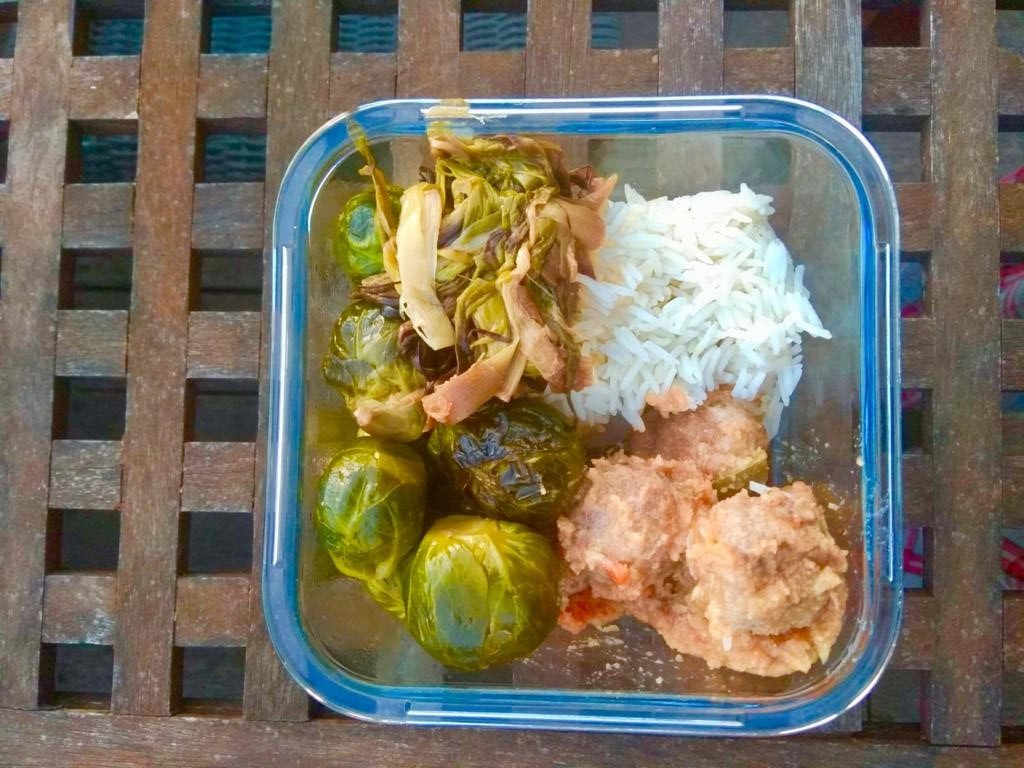 Gnocchi with tomato sauce and egg
Andrea O., the nutritionist at Tuset DiR and Up & Down, has opted for this original recipe for gnocchi with tomato, onion, green beans, tuna, boiled egg, basil and powdered garlic: delicious and easy to prepare extra so you can have some for another day.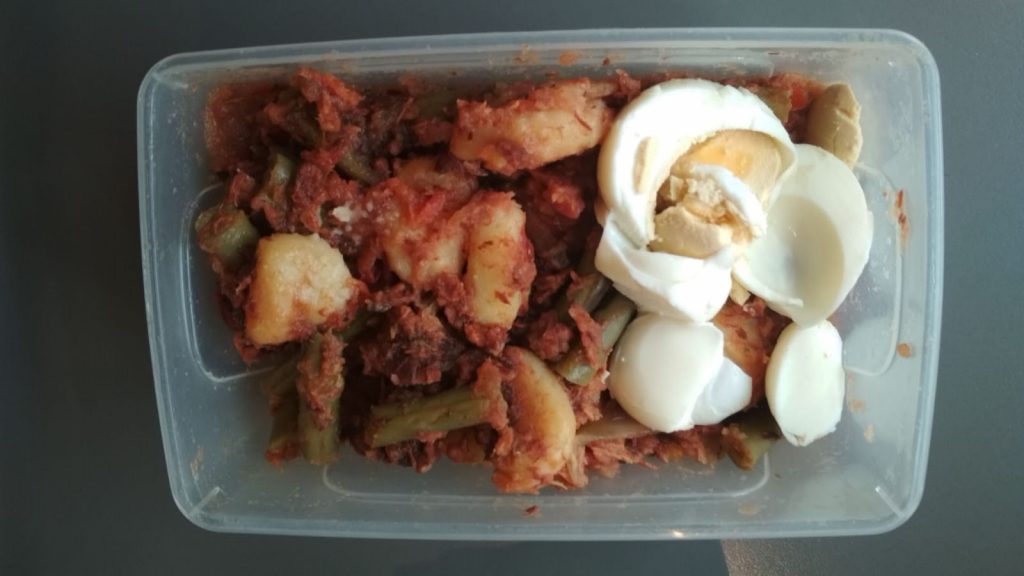 We hope these healthy lunch ideas inspire you to create your own recipes to take to work, so that taking your lunch isn't a nightmare. As you've seen, our recommendations are extremely varied, can be adapted to any palate and are very tasty.
If you want more ideas like this, help with healthy eating habits, improving your quality of life and reaching any of the goals you have set yourself (weight, health or sports performance), don't hesitate to visit our nutrition department. Now you can book your first appointment with our nutritionists free of charge here.