From 1 November, DiR will be incorporating monitoring technology in its HIIT Bootcamp classes. This comes as DiR's response to users' need to measure the results they get from this high-intensity training.
The heart-monitor band you'll have to wear at each session will give you an exhaustive tracking of your training in real time. The main benefit of this software system is that it allows for personalised management of the workout intensity at any time, directly associated with achieving your goals.
The goal of this monitored training is to improve your ability to work at high intensity (maximum time at maximum intensity) and your recovery time (less recovery time between high-intensity blocks). With automatic monitoring of users, two indicators are used to see progress over time: heart rate (resting HR and maximum HR) and perceived level of intensity of workout in real time.
To get your resting HR, you'll have to take your pulse for 15 seconds while completely still and multiply it by 4. Maximum HR is measured automatically, but if you already know it, you can input it manually and choose the right box. Plus, the app will automatically show you your perceived fitness level: take into account that the lowest number is 1 "very poor fitness level" and the highest is 5 "very fit".
You can get a band for the heart monitor at reception at any DiR club. Once you've signed up as a user on the Aplifitplay.com website, you'll get your device and start enjoying the experience in the session. The system automatically detects you as a user when you walk into the room, putting your nickname up on the screen. The indicators you'll be able to see in each phase of training are:
Your heart rate.
Your heart rate as a percentage of your maximum heart rate, always associated with the same figures.
Calories burnt.
Your progress, in percentages and different colours so it is easy to read quickly.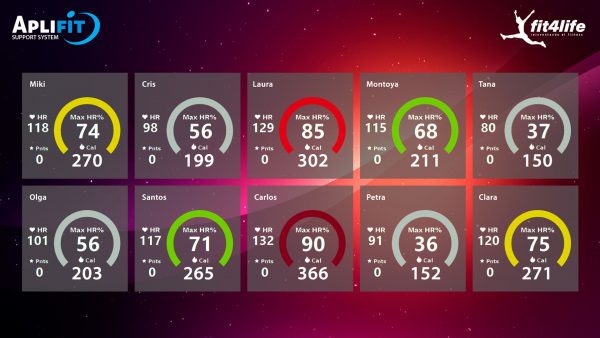 The teacher will manage the parameters of the session, letting you know which colour you should be working in at each stage of the workout. This way, you can monitor your progress. Using a heart monitor will allow you to save your data online and look back over it whenever you want. Plus, you'll get prizes to motivate you.
HIIT Bootcamp (High intensity interval Training) at DiR takes participants through intervals of high intensity alternating cardiovascular exercises on the treadmill and strength exercises on the ground with benches, hand weights and/or balls. In addition to this combination, which ensures you work all the body's muscle groups, one of the main characteristics of this high-intensity workout is that participants are immersed in the experience with lighting and sound in the room to push them to their best.
HIIT Bootcamp isn't the only high-intensity activity at DiR. In our commitment to high-intensity training, the group also has Box DiR, a functional training method based on a combination of cardio, callisthenics and weight-lifting; and Jambox, which combines boxing and functional training with and without material, in a space designed, like HIIT Bootcamp, with special lighting and sound to make working out a complete experience. 
If you're one of our HIIT Bootcamp fans, remember to wear your heart monitor starting 1 November! And if you don't have one yet, ask at your DiR centre and you can also buy one there when you come to class.
You'll find more information here: