Training with a punching bag is the best alternative to get fit and have fun without having to knock anyone out
If you're looking for a workout to get fit, lose weight, have fun, release tension and where you can start from scratch, join the trend Victoria's Secret models are already following  and start hitting a punching bag.
Just think that in order to throw a punch (which moves at almost 11 metres per second) you use almost every muscle in your body, from the foot that supports your weight to the knuckles on the hand that hits the bag. Large muscle groups are fully coordinated: the impact on the bag activates every muscle on your shoulders and arms, your core (pectorals, abdominals and back) is always moving and your glutes and legs are active because you're constantly skipping.
That's why boxing is highly recommendable if you want a full workout. Here are the main benefits of hitting a punching bag.
Develop several physical abilities
Hitting a punching bag helps you improve your strength, speed, coordination and endurance at the same time. Don't think that to hit a punching bag you only need to be really strong; what you really need is cardiovascular and muscle endurance, two abilities you'll also develop with this activity.
High intensity training
One could argue that the famous HIIT (High Intensity Interval Training) has been in use in boxing for many years. In fact, each boxing round consists of 3 intense minutes throwing and receiving punches and 1 minute resting, and a match lasts 12 rounds. When training with a punching bag, the combination of high intensity movement and rest is the same. This training method that's so fashionable right now is the most effective way of burning fat and losing weight.
Relieve all your stress
Putting boxing gloves on and standing before a punching bag is, without a doubt, the starting point to forgetting the tension of your everyday life. The concentration your need to correctly execute movements and blows to the bag help you to totally disconnect from the outside world; it's the oasis your brain needs. Once you finish the session, you'll feel brand new.
Exercise your abs
The best formula to have rock-hard abs is the combination of cardiovascular exercise and movements that exercise the abdominal muscles. Boxing is one of the best training routines because it combines both activities. For example, when throwing right and left punches, the abdominal area is working all the time, with every turn, and is also connected with leg activity. You'll notice how much your abs have worked at the end of the training session!
Tone your legs too!
Whenever you are hitting the punching bag, your legs are active at all times because they have to move like a spring, that is, skipping on the spot. You'll notice how your legs have worked hard at the end of the session!
Burn calories at a frenetic pace
Boxing is the "fat burning" workout par excellence; in addition to helping you lose weight and tone your muscles. You won't be able to burn the same amount of fat on an elliptical bike or a treadmill as you burn while boxing. You won't only burn a large number of calories while you train, but you'll continue burning fat even after you finish training due to the high intensity of the exercise.
JAMBOX sessions, the best way to start boxing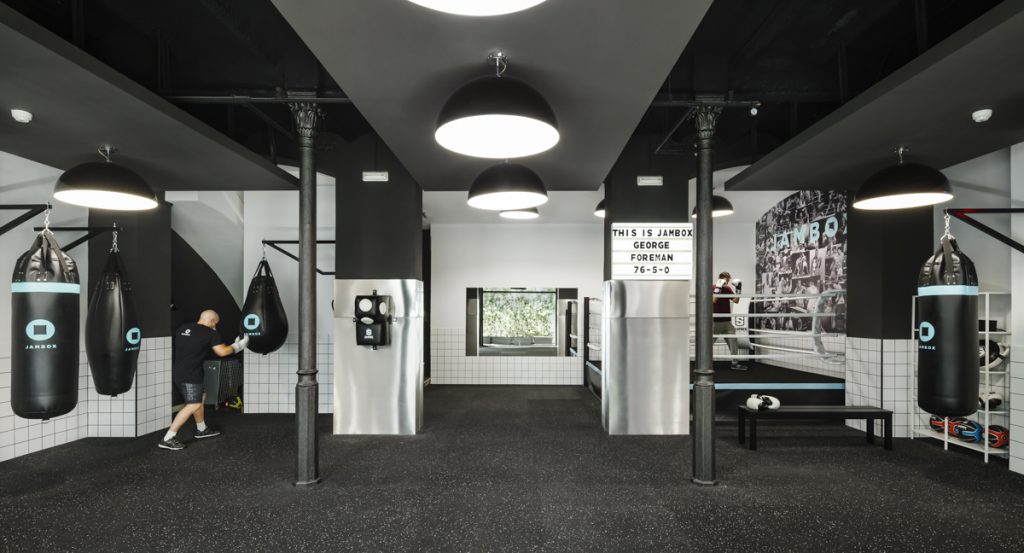 JAMBOX by DiR sessions are a type of contactless boxing training, which are perfect for people who want to start boxing and benefit from all the advantages this training offers. Bag punches are combined with functional and high intensity exercises for 3 minute intervals. With these sessions, you can learn the main boxing blows and their combinations and get in shape quickly. Don't hesitate and come try a free JAMBOX session at DiR Claris.