The new gym and fitness franchises adapt perfectly to current trends, covering a growing need
The evolution and growth of the fitness sector in our country go hand-in-hand and follow the same line as the trends in leading countries in the sector, such as the United States, Germany and the United Kingdom. The number of members at Spanish gyms has been increasing for the past 5 years, due to new concepts that attract members to Spanish gyms, something that has not gone unnoticed among investors in gym and fitness franchises.
There are currently 5.3 million people who are members of a gym or fitness club, nearly half a million more than in 2014 and the trend shows an annual increase of between 2% and 3%  (meaning 100,000 new members each year). Today, 11.4% of the Spanish population is a member of a fitness club (13.5% if we only look at the population over 15), which still leaves quite a margin for growth before we reach the 14.6% of 2007 according to the IHRSA study, in the book Business & Fitness: El negocio de los centros deportivos.
Looking at these figures, there is no doubt that Spain has become one of the main European fitness markets, ranked fifth in Europe behind Germany, United Kingdom, France and Italy in terms of total revenue of a sector that has never stopped evolving over the past two decades.
Spain takes the baton in the race towards a new fitness model
At the end of the 20th century and beginning of the 21st, we mainly saw large gyms with more than 2,000 m² offering all sorts of fitness and wellness services that included, in addition to the traditional ones to improve physical fitness, everything users could need to improve on health-related aspects, including nutrition, physical therapy and beauty services.
Meanwhile, in the United States and the United Kingdom new trends were already taking hold that would change the course of the sector, and in recent years these have begun to take root in our country. They are specialised microcentres, with 200m² to 500m² of space, near work or residential areas with all the essentials for a general workout or specialised in a specific training method that is popular among the population.
Over the past 2 years, DiR Clubs, with its franchise department, has opened up more than 30 franchises of centres specialising in different disciplines throughout Catalonia, and is planning additional openings in Madrid with the same gym and fitness franchise model.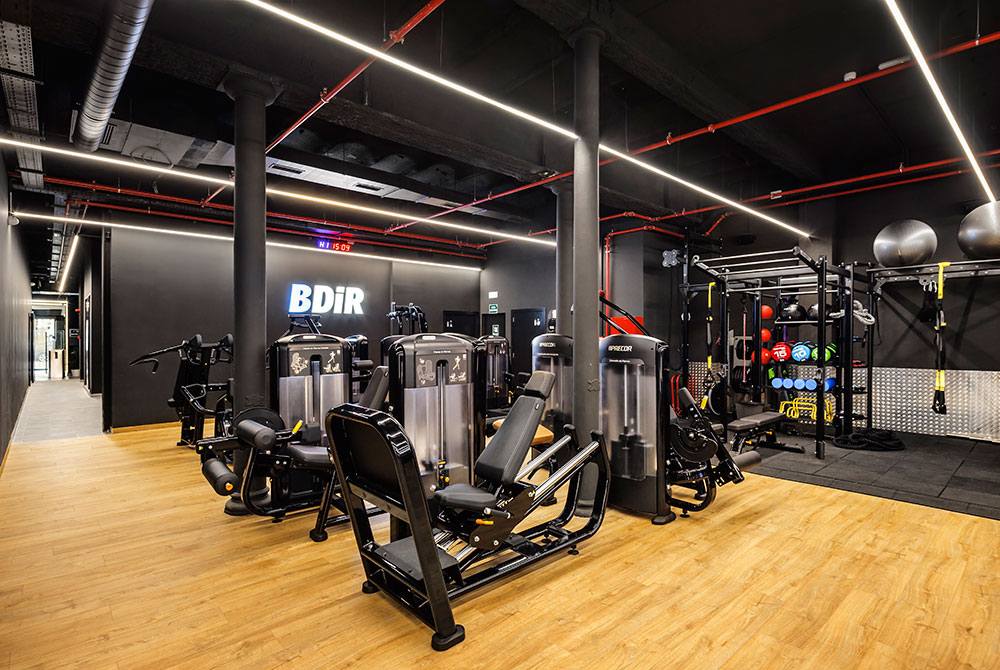 The gym and fitness franchise model that works
After 40 years in the fitness and wellness business, with nearly 20 gyms and yoga centres, the DiR Clubs sports franchise department gives future investors and entrepreneurs the opportunity to choose from 3 different business models that cover the most in-demand options according to studies on fitness trends.
The most in-demand global trend at gyms today is HIIT training. This discipline can be found in the Jambox franchise model, a fitboxing club that makes the most of sessions with a punching bag and functional training in a space with the perfect lighting and surround sound to give it your all in every workout.
The yoga boom in recent years in our country has not gone unnoticed in terms of trends seeking better health and physical fitness. Under the name  YogaOne by DiR, we offer yoga studios with access to many classes in different styles 7 days a week, for all levels. So far, more than 25 yoga franchises have been opened in just 2 years in Catalonia.
Finally, there is also the franchise model offering the more traditional fitness gym adapted to current demands. BDiR gyms offer all sorts of classes led by fitness teachers, lifting rooms, spinning rooms and cardio training, located in residential areas.
Open your own gym and fitness franchise with us
Don't give it another thought! Contact our DiR Franchise team here to get more information on how to open your own sporting franchise.